Mandeera Bora
Head of Secondary School | The Ardee School, New Delhi
Mandeera has been an educator since the last two decades. A post graduate in English and a B.Ed, she has taught senior classes in leading ICSE and Cambridge International schools across the country including several years at Mayo College Girls' School, Ajmer and at Mumbai. She has been actively involved in student exchange programmes overseas, headed debate programmes and Mock United Nations events at schools across India.

Mandeera believes that an educator must provide the best learning environment to one's students so that that the flame of learning stays ignited. She likes to constantly experiment with imaginative and creative ideas to generate synergy and believes in motivating her students to create a benchmark in whatever they do. Her ability to empathise with her students helps her to encourage them with commendation and constructive criticism and develops in them the attitude that a job worth doing, is worth doing well.
---
From the Head of Secondary School's Desk
(Dated: September 2021)
Dear parents,

Finally ! The Delhi government has announced that schools can reopen. It will be absolutely wonderful to have the campus alive once again!

Every time I have been in school this month while our senior students came in for assessments, lab work and Art lessons, the Key Stage 3 students have begged me to take them on a campus tour, which I did and they longingly reminisced the happy times and pranks they played in their classrooms. They for one cannot wait to get back!

In a recent PSA meeting, members expressed how desperate they were for schools to open and for children to step out and start leading a normal life. We all jokingly agreed that the child's concern was not the only reason for this desperation!

So while the School support team is ensuring that the students return to a safe environment and plans are in place to provide psychosocial support to the returning students, are you parents, ready to send your child to school ?

Here is a self assessment guide by Dr. Chandrakant Lahariya (MBBS, MD), a physician and a trained epidemiologist, and who is a public policy expert with nearly two decades of work experience including that of working with the United Nations system, for 13 years.

Risk of bringing coronavirus infection home: Self-assessment guide

The already low risk to children can be further reduced by proper ventilation in schools and adherence to Covid-appropriate behaviour. However, there are fears about children bringing infections home, transmitting to other family members. This is a genuine concern and the best approach for everyone is that all eligible adult members get vaccinated.

1. The risk for most family members is likely to remain very low (green boxes). Families with all members in green boxes can send their children to school without any risk.
2. In some families, a few may fall in a subgroup that is already at some risk which remains unaltered because of children attending schools (yellow boxes).
3. Then, there would be a few, a very small proportion of families, which would have members with increased risk (red boxes) due to children attending schools.

Families with a member in yellow and red boxes should do everything to ensure that because of their risk, children are not deprived of education. The family needs to adjust so that the children can attend school. The approaches could include the member with high risk of getting fully vaccinated and the strict use of masks by high-risk family members. Of course, continuation of online learning is an option but that should be the last option.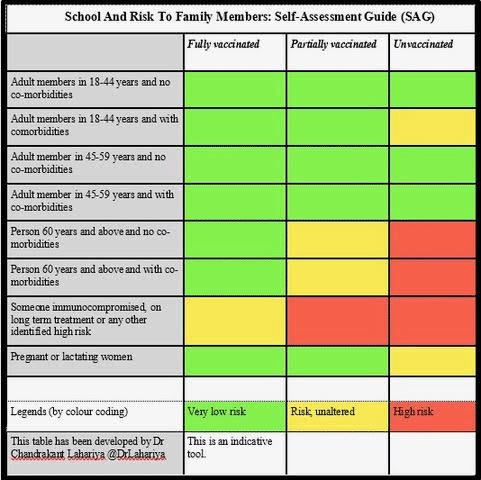 Looking forward to a much awaited reunion with our students.

Till next month ……………………